NAIL STICKER
Easy and fashionable nail stickers.
Miracle Kogyo's nail stickers are full of ideas for easy enjoyment.
Just stick it on the nail sticker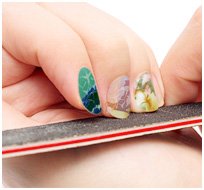 There are various types of nail stickers, but the ones that are popular are those that are designed as a whole, are easy to apply, and can be completed simply by applying, just by scraping off the excess nail file with a nail file. When you don't have time, you can go out as it is, or when you have time, you can decorate the nail parts on it and design it perfectly. Our "Just stick it on the nail sticker" are printed on a flexible material developed by ourselves, so they are less likely to wrinkle, and even if you don't have a nail file at hand, you can scrape them off with just your nails, so you can easily install them anywhere. I will.
Spot decorate for nails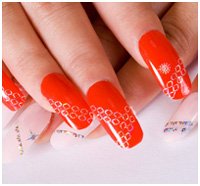 We also produce "Spot decorate for nails" for decorating nails . If you process with our cutting technology "Clear Cut", even fine patterns can be cut out neatly. By combining foil and resin filling processing, we can provide parts sticker for nails that meet the needs of our customers.
Water transfer for nails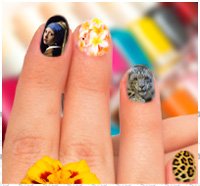 We also recommend "water transfer for nails" that use water transfer stickers . The water transfer sticker made of thin film can also be used as a nail sticker. Since it is a thin film, you can use it as a base for nail designs, coat it, and then decorate it. High-resolution full-color printing is possible, so precise design is possible.