PUT ON NAIL
Nail art that is completed just by pasting

Easy to cut excess part
A nail sticker that can be completed simply by sticking it on your nails. Since it is designed in the shape of a nail, you can enjoy nail art just by sticking it according to the nail. Cut off the excess part with a file to shape it. It is a popular nail sticker.
Nail stickers that are less likely to wrinkle
Demand for "stick and scrape" type nail stickers has been increasing in recent years. The important thing about this type of nail sticker is how clean it can be applied.
We have reviewed the seal material and improved it to a flexible fabric that does not easily wrinkle even when pasted . The extra part of the sticker can be easily cut with a nail file (file) (our material is soft so you can cut it with your nails even if you don't have a nail file). You can enjoy easy and high quality nail stickers. Various variations of nail stickers can be manufactured by using gold leaf or resin filling.
Features of nail stickers just by pasting
Since it is a flexible film material, it is less likely to wrinkle.
You can scrape off the excess protruding part with just your nails
Full color printing is possible
Gold leaf and partial filling are also possible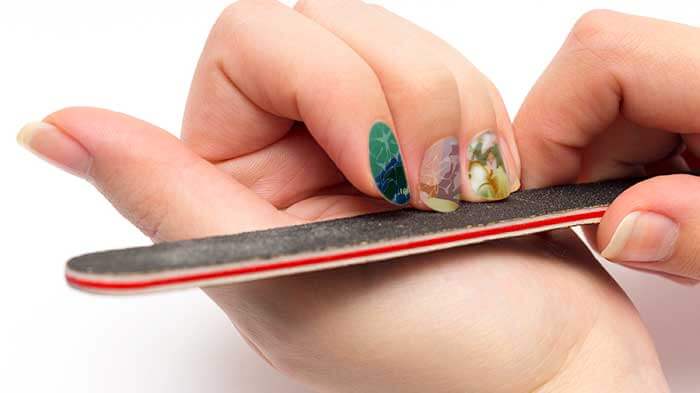 Please contact the sales department for details.
Just stick the nail sticker sample
Click here for nail parts stickers